(Before I start, I'd like to apologize in advance to my XDAndroid followers: This post is cruft for you, so if you're not into it, don't feel bad to disregard it angrily. Also, for those of you who hate alliterations: I apologize for the title.)
For much of last week (and starting two weeks ago from Friday), the Super Mario Marathon guys ran their third annual event to raise money and awareness for the Child's Play charity. If you haven't heard of Child's Play, they are a not-for-profit organization which raises money and purchases toys, games and books for children's hospitals. The results of Child's Play's efforts have provided entertainment and raised morale for sick kids in hospitals across the country and even internationally. Child's Play is a charity formed from the ground up by the gaming culture, and is one of the industry's most significant contributions to society.
Read on for some thoughts about the Marathon's incredible success!
Mario Marathon is a gaming marathon fundraiser in which all proceeds benefit Child's Play directly. Each Marathon has been incredibly successful, surpassing the expectations of the viewers (and donors) and hosts alike. In its debut year, the Mario Marathon raised nearly $12,000, which was incredible for a first-time event. The next year was even more amazing, with the Marathon hauling in over $29,000. This year's Marathon, however, was almost unfathomable: the crew raised an inconceivable $82,000+ in under five days.
Mario Marathon is a huge success and it's not hard to see why. The Marathon team does a great job of getting the word out and socializing its efforts. More importantly, they do an incredible job of getting their audience involved. For every second of the Marathons, there was someone in the room, interacting with the social stream or chat channel. There is always a commitment to keeping the viewers involved and making the Marathon feel like an interactive event.
Almost as important as interactivity are the incentives. The Mario Marathon team spent (probably too much of) their hard-earned money, their time and their effort on coming up with contests and prizes for their viewers. And for those, like me, who couldn't get too involved because of pesky real life issues like work, they offered drawings in exchange for donations or spreading the word.
They even held a grand-prize drawing for one lucky donor. Amazingly enough…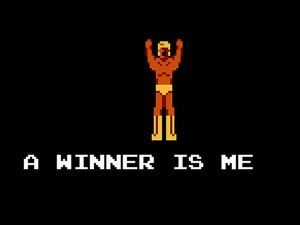 So, I felt it fitting to document the prizes visually. Thanks to the entire Mario Marathon crew, especially hosts Brian, John and Chris, for the awesome event and almost five days of pure entertainment that I had to miss way too much of. Thanks again for the prize drawings, and the interactivity and general amusement of the event. And a huge thanks to the donors who made thousands of kids happier and smashed the stereotypes that hound the gaming culture. Lots of people gave lots of money that they couldn't necessarily afford to give. It was a great show of support!
And last, but not least, here are pictures.
[nggallery id=1]